| | |
| --- | --- |
| Posted on October 25, 2016 at 6:05 PM | |
I recently wrote about some of my experiences with the Tarot of which I am extremely fond. In addition to the Tarot, I also use the Fallen Angel Oracle Cards created by Nigel Suckling. I am not prone to liking oracle cards but when I saw these in a local bookstore, of course, I had to check them out.
There are seventy-two cards in the deck, each one representing a Demon from the Goetia. Aside from divination, they can also help you to make a connection with the Demons who might use them to let you know they want to communicate with you.
One of the ways they will do this is by influencing the cards that come up during a reading. For example, each morning I shuffle the cards as part of my daily devotions and I ask which Demon might want to talk with me. The same card has come up day after day. Coincidence? Some might say it is, but considering the number of cards in the deck and the frequency that the same one comes up, it is hard to deny that there isn't an outside influence.
If you happen to get a certain card repeatedly, you might want to use another deck to communicate with that particular Demon. You might also want to consider using another method of communication such as a pendulum, meditation or pathworking. Now if you don't know much about the Demon, I suggest you do some research first before you start further communication. This is so you know who you are dealing with, and if you choose to prepare the space in which you will call the Demon, it is beneficial to know which kind of incense, candle colour, and offering to use.
The artwork might not appeal to everyone and would not be considered 'demonic.' Instead, they have a more gothic look to them with a collage of different images consisting primarily of tombstones, mausoleums, trees, and animals. If you want to ask a generalized question, there are words on the cards that you can take as an answer or as advice for the day.
Here is an image for the card representing Bael: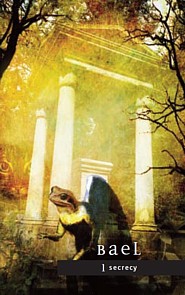 If you decide on using the cards, I would be interested in hearing about your experiences with them.
Satanic Blessings,
Marie RavenSoul